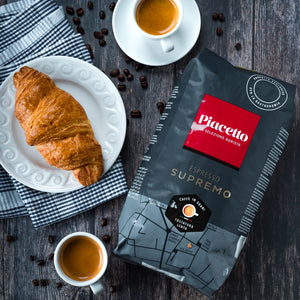 Piacetto Supremo is an exclusive delicacy from carefully selected Arabica and Robusta beans, grown in parts of South America and Asia.
The flavor journey from Piacetto Supremo Espresso to Caffe Crema is like travelling from the metropolitan city of Milan to the romantic city of Florence. The espresso blend, much like Milan, is progressive and bold; a statement for the palate. Whereas the Arabica beans, similar to Florence, is delicate and aromatic, with many hidden notes to discover. Both cities have a strong history and passion for producing great coffee.
An exceptional coffee that is rich, mellow and aromatic with a roasted taste.
This item is sold per pack of 1kg in the Northern Italian Blend of Arabica & Robusta Beans